Seoul Station + Train to Busan Double Bill
Yeon Sang-ho's double bill of undead drama is simply something else. Serving as two complementary films, both combine a number of powerful social messages with plenty of staggering action set pieces that appear to have few limits and set the films from apart from the normal run-of-the-mill genre schlock.
Starting with the prequel, Seoul Station is an animated horror flick, a very rare concept in itself. Based around a simplistic tale of a troubled young couple split apart during a zombie outbreak, the animation is surprisingly effective, helped in no part by some excellent voice acting.
While the film takes minimal effort establishing its central characters, its focus on the gradually evolving chaos of the city and the ignorance and confusion of the government makes for an intelligent little piece that, while a fitting precursor to Train to Busan, could easily be enjoyed on its own.
The main issue with Seoul Station is its often heavy-handed delivery of its social commentary (the first line of the film: "I think there should be universal welfare"), leading to several jarring exchanges that feel distractingly out of place. However, the treatment of the homeless and the flaws of the government form key plot points in the film and helps to set up the better executed social messages of Train to Busan. Another minor note is that the animation style is initially somewhat jarring and it takes time to get used to the low framerate. All in in all though, the film works due to its unique nature and ability to thrill, even if the plot is as thin as its 2D animation.
Now, if Seoul Station was director Sang-ho at half speed, Train to Busan is the real deal. Setting a powerful human drama against the backdrop of a zombie invasion, Sang-ho goes absolutely wild, delivering sequence upon sequence of gory, stunningly chaotic sequences with an almost beautiful efficiency. The film orchestrates chaos in a way no other has even attempted, with an intelligent, sometimes even humorous script and some stunning camerawork.
Built around a stronger central relationship that its prequel, Train to Busan centers around clinical businessman Seok-woo (Yoo Gong) and his young daughter Soo-an (Soo-an Kim) as they struggle to connect due to Seok-woo's ruthless work ethic. In fact, it is due to their difficulties that they end up on the ill-fated train, as Soo-an wants to return to live with her mother in Busan. Of course, all is not right on the train and chaos soon spreads as the infection does. The film strikes a perfect balance between confusion, tension and downright pandemonium, with the confined trappings of the train amplifying the intensity of the proceedings.
Blending practical effects with slick CGI, the zombies of the film are downright terrifying, with their deformed features and frenzied movements chillingly realized. Their rabid quest for
survivors leads to images of thousands of bodies piling on top of each other as they frantically pursue the surviving humans.
One particularly memorable scene, an escape from an abandoned train station, sees hundreds of zombies pouring off a railway bridge and throwing themselves head first onto a moving train. It is all so ridiculous and over the top that it makes for a riotously entertaining watch.
But underneath this undiluted fun are a number of superb performances and several intriguing and tastefully addressed social themes. The relationship between Seok-woo and his daughter is touching to witness and makes for the genuinely moving heart of the film, amidst all the surrounding chaos. The other performance of note is Dong-seok Ma as the jovial and kind-hearted Sang-hwa, throwing plenty of humourous ribbing at Seok-woo and proving his worth with his self-sacrificial nature.
Issues of inequality and corruption are both subtly addressed, with Seok-woo's position as a fund manager leading to Sang-hwa joking that he, like the zombies, is a blood sucker. Wider messages about the charity and cruelty of humanity are also prominent and, like with Seoul Station, feature heavily throughout.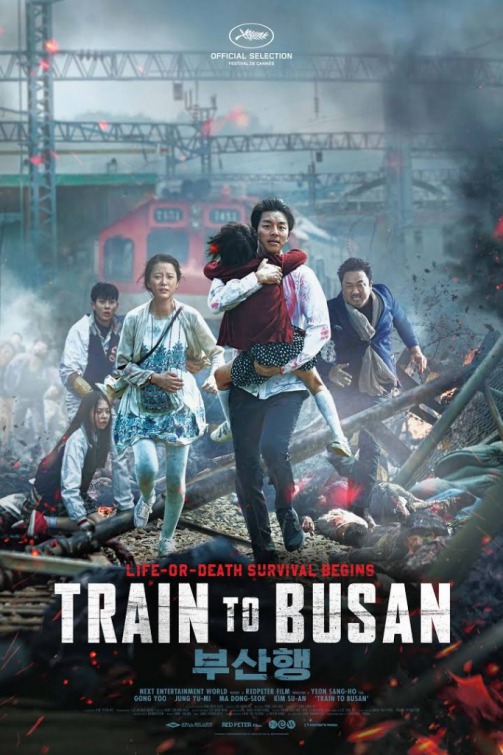 If I had to recommend only one of these films, it would obviously be Train to Busan. An unexpectedly brilliant social commentary wrapped up in an insanely entertaining horror romp, director Yeon Sang-ho's unique vision shines through. But don't ignore Seoul Station, an equally as creative venture that forms a fitting double bill with the spectacular sequel. Innovative, creative, gory.